In this book excerpt from The Herbal Kitchen, author and herbalist Kami McBride highlights an herb common in our kitchen – paprika! – and shares three culinary herbal oil recipes that present this herb as the star of the show and provide an easy and inviting way to season your cooking with this tasty and beneficial spice. Packed full of beneficial nutrients, its properties include anti-inflammatory, antioxidant, cardiovascular tonic, and more. Spice up your life, give a lift to your health, and try out Kami's recipe below as a way to incorporate this herb into your meals on a regular basis!
Paprika Monograph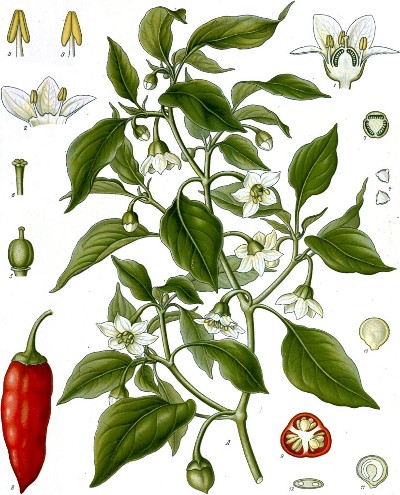 COMMON NAME: Paprika
BOTANICAL NAME: Capsicum annuum
PART USED: Fruit
GARDENING TIPS: Paprika adapts to different regions, but it thrives in warm weather. It does not like extended frost and grows in warm, dry climates in full sun. It likes well-tended garden beds with good water drainage and moist soil.
PROPERTIES: analgesic, antibacterial, anti-inflammatory, antioxidant, cardiovascular tonic, carminative, circulatory stimulant
USES: I love paprika; sweet paprika gives you the splendid flavor of a chile pepper without all the heat. It ranges in flavor from mild and sweet to hot and pungent depending on processing methods and growing conditions. There are many varieties of paprika, so look for the cooler, sweet Hungarian paprika. If you want a hot pepper, then use cayenne. Paprika permeates your food with a full-bodied flavor that brings everyone back for seconds. We keep paprika on the table in a miniature bowl and sprinkle it onto practically all our dinner foods, and we use it much more frequently than salt. My son sprinkles it on rice, vegetables; and pizza!
Paprika Oil Recipe:
This is my favorite oil for corn on the cob. I once had a dinner guest just pick up her plate and drink the oil that was left over from the corn.
 Ingredients
1 cup (240 ml) coconut oil
2 tablespoons (12 g) powdered paprika
¼ teaspoon (½ g) ground black pepper 
⅛ teaspoon (½ g) salt
Dash of ground cayenne, or to taste
Directions
To prepare, combine powdered herbs and salt with coconut oil in a sanitized glass canning jar and let infuse for 4 weeks, shaking occasionally.
Stir as needed if the coconut oil solidifies.
At this point, no need to strain the herbs, the oil is ready to use!
*Since these herbs may interfere with blood glucose regulation, people with diabetes should only use this formula under the guidance of a qualified healthcare practitioner.